Jacquelyn L. Mascetti Named One of LIBN's "Who's Who in Women In Professional Services"
September 9, 2021 | Articles & Press Releases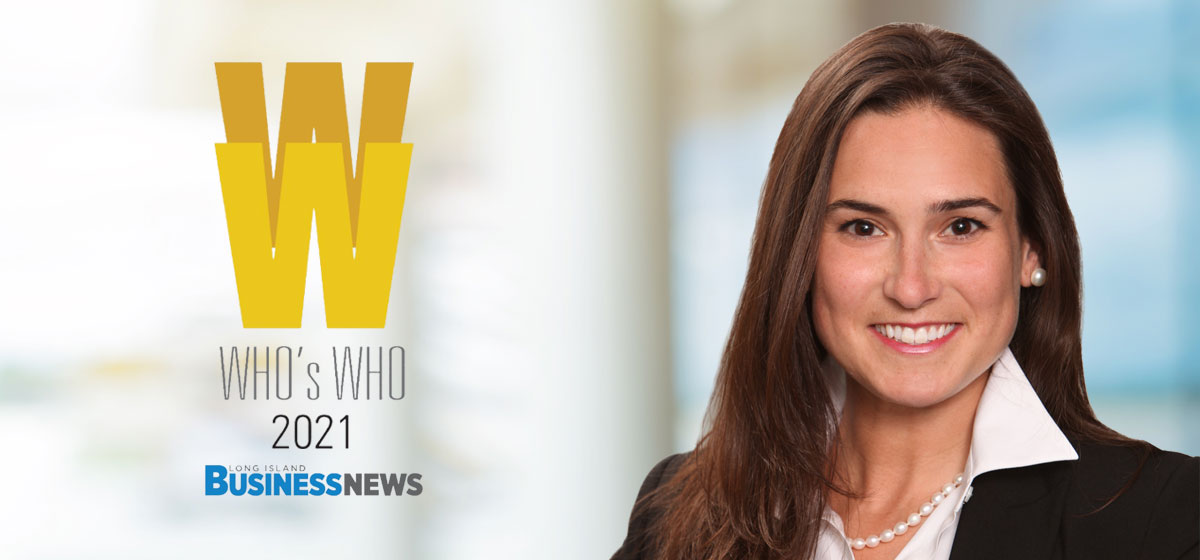 Jacquelyn L. Mascetti is an attorney in the law firm of Herman Katz Cangemi Wilkes and Clyne (HK) in Melville. Mascetti concentrates her practice in the area of tax certiorari and condemnation law across New York.
While at HK, Mascetti has participated in valuation trials for various different property types, including golf courses and nursing homes, drafted briefs, and motions for the Second and Fourth Departments and the Court of Appeals on a wide variety of issues, and successfully argued before the Second Department. She has also received favorable motion decisions in several lower courts across New York State concerning discovery, petition amendments, quashing subpoenas, and defeating motions to dismiss.
Looking into the rest of 2021, Mascetti noted, "The courts are cautiously returning to in-person activities, but still maintaining some of the changes that were implemented during the pandemic, such as remote appearances and electronic filing."
"The same is true for some of the municipalities that we work within tax certiorari," she said. "These changes have led to more efficient ways of addressing issues and negotiating matters and I anticipate that they will be the way we continue to practice going forward."
"For example, a vast majority of our filings are now done electronically – from filing grievances with a municipality to filing appraisals in the court system," Mascetti said. 'I expect the frequency of virtual appearances and electronic negotiations and filings will continue to increase for the rest of 2021 and into the future."
Prior to joining the firm in 2013, Mascetti gained experience at a boutique firm in Manhattan where she was involved in all phases of complex commercial litigation, insurance coverage issues, corporate investigations, and white-collar and regulatory defense matters.
She earned a Juris Doctor, cum laude, from St, John's University Law School and a master's degree in business administration from Bentley College, McCallum Graduate School of Business, and a bachelor's of science degree. Magna cum laude, from Bentley College.
During law school, she interned for the Hon. Anthony F. Marano, Supreme Court Justice and Administrative Judge of Nassau County. Prior to attending law school, Mascetti worked at a large hedge fund and a university.
Mascetti is admitted to practice before the courts in New York, New Jersey, and Connecticut.
She is a member of the Nassau, Suffolk, New York City, and New York State Bar Associations and is a member of Long Island Builder's Institute and the Columbian Lawyer's Association of Nassau County.
Mascetti has been recognized with the Suffolk County Bar Association Academy of Law Award and is the Schneps Media "Stars Under 40" recipient.
Herman Katz Cangemi Wilkes & Clyne (HK) concentrates its practice in valuation law. The firm helps clients maintain their competitive edge by reducing excessive real estate tax burdens. When property is taken for a public use, HK fights in eminent domain proceedings to make sure clients receive the compensation they are due under the law.
HK contests the property valuation of a broad range of major properties throughout New York City, from major office buildings and hotels to large retail projects and multifamily residential to industrial and specialty property. HK also represents a diverse real estate portfolio in property tax appeals on Long Island, in Westchester County, and throughout upstate New York.
HK's reputation for integrity means its clients receive skilled and trusted counsel through the multi-faceted and highly complex property tax review and appeal process. More than just litigating tax appeals after an issue has arisen, the firm is available for the acquisition or development underwriting and due diligence stages, providing forecasts and advisory services to eliminate unwanted tax surprises.
HK has been at the forefront of navigating the complex world of real estate taxes for decades, saving our clients millions of dollars each year in unwarranted property taxes.